Small Business Training Classes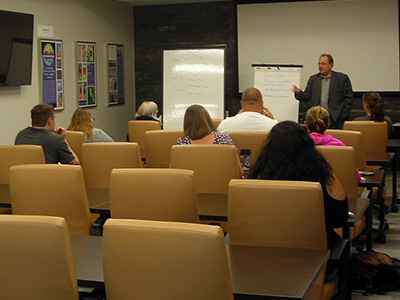 The Micro-Enterprise Program is coordinated by the SUNY Oswego Business Resource Center (BRC) and supported by the City of Fulton Community Development Agency, the City of Oswego Community Development Office, and Operation Oswego County to provide guidance and support to people interested in starting or expanding a small business.

The program provides a 24-hour small-business training program that covers such topics as how to write a business plan, how to obtain financing, accounting and tax issues, business insurance, legalities, marketing, and other basic business start-up issues.

Graduates of the program are eligible to apply for up to $25,000 in low-interest financing to expand or start their business in Oswego County.

Tuition for the program is $50 and includes all materials. Due to COVID-19, all classes are currently being held online. Scholarships are available for households within low to moderate income guidelines as established by U.S. Department of Housing and Urban Development.
Click here for more information and a course outline

---
Employment Opportunities

Search more than 400 websites with more than 8,000 available openings in 12 counties at www.essentialnyjobs.com.

This site is a project of the Essential New York Initiative, a 12-county regional growth strategy launched by the Syracuse MDA in 2004. The site is FREE and FAST. Visitors enter key words such as chemical engineer or laboratory technician, and the search engine produces a google-like list of available openings. Job seekers then click the individual jobs to be taken directly to the site where information on the job was posted. Counties included are Onondaga, Madison, Oneida, Herkimer, Lewis, St. Lawrence, Jefferson, Cayuga, Cortland, Oswego, Madison and Seneca. The new site was made possible by a $50,000 grant from Bank of America.