Oswego County is geographically located at the crossroads of the Northeastern United States and Southeastern Canada. A complete transportation network is available including highways, water, rail and air to provide fast and efficient movement of products and raw materials.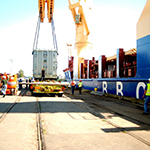 50,000-ton bulk, covered storage facility

10,000-sf warehouse space

400,000 sf of open storage adjacent to dock, additional 15 acres available

1,900 lineal ft berth with 26'6" draft - East Terminal

1,100 lineal ft berth with 23' draft - West Terminal

1,400 lineal ft berth with 14' draft - West Terminal

Total intermodal services - dock-side rail; connection to major highways
525-mile system composed of the Erie Canal, Oswego Canal, Cayuga-Seneca Canal and Champlain Canal

Stretches from Buffalo to Albany

Connects the Hudson River with the Great Lakes, Finger Lakes and Lake Champlain

Great option for the transportation of oversized cargo via barge towing services
One 5,200 ft. paved runway

One 4,000 ft. paved runway

Corporate, commercial and general aviation

Storage and outside tie-down facilities

A&E mechanics available

Instrument Landing System
15-45 minute drive from Oswego County

100+ passenger flights depart daily

Facilities for air freight services

53,000 sf cargo building
Highway Transportation
Nearly 2,000 miles of highways

I-81 and I-90 provide north/south and east/west movement

25+ carriers for local and long-distance trucking

Connecting lines provide transportation to every major market area in the U.S.
Daily rail service to Oswego County

$2.9 million switching terminal

Remodeled yard in nearby Syracuse

Prompt movement to and from Oswego County's industries