The Project
In 2018, EJ constructed a 71,300 sf fabrication facility on a 15-acre site in the Oswego County Industrial Park in the Town of Schroeppel.
EJ is the leader in the design, manufacture and distribution of access solutions for water, sewer, drainage, telecommunications and utility networks worldwide.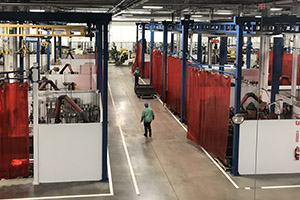 The facility will also serve as EJ's northeastern hub for logistics and distribution.
Investment
$9.1 Million
Jobs Created/Retained
91
Testimonial
"A couple years ago, we began looking for a new site. Retention of our employees and staying in the state of New York, were key to the site selection. Fortunately, we found a site within a 15-minute drive of our current location, which will be the new home for our fabrication facility. We know we have an excellent site and location to attract the talent and creativity we need to successfully design, manufacture and distribute our EJ product lines."
Tracy Malpass
President