Workforce
Our 59,000-strong workforce is one of the most skilled labor forces in the nation. County and state agencies provide employers with custom training services as needed, plus other services such as on-the-job training opportunities, skills assessment, and apprenticeship development, as well as information on tax credits, labor laws, and workplace safety.
Oswego County has a well educated population.
Oswego County is home to the State University of New York College at Oswego and Cayuga Community College's Fulton Campus, offering both traditional and non-traditional students access to continuing education.
The Center for Career and Community Education is a partnership between Cayuga Community College and the Center for Instruction, Technology and Innovation (CiTi). The CCCE offers career training, customized corporate training and more.
High School students across Oswego County's 9 districts are able to take advantage of a variety of college-level courses. This adds richness to their secondary education while preparing them for college. Additionally, CiTi offers PTECH to students interested in STEM. The 5-6 year program allows students to achieve a high school diploma and a 2-yr college degree simultaneously.
Utilities
Oswego County, powerhouse of the northeast, generates over 5,500 megawatts of electricity with extremely high reliability.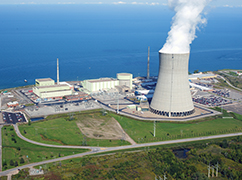 National Grid serves 33 counties in Upstate New York, including Oswego County. They provide electric service to approximately 1.5 million customers and natural gas service to approximately 540,000 customers in upstate New York .
With Great Lake Ontario at our shores, Oswego County boasts one of the most abundant and highest-quality water supplies in the country.
Public sewer systems are available in the City of Oswego, the City of Fulton and most of the incorporated municipalities, with the exception of rural areas.
Broadband is available in the majority of the county, except in the most rural areas. It has been identified as a priority in the County of Oswego's Economic Advancement Plan and coverage continues to expand.
Transportation
Oswego County is geographically located at the crossroads of the Northeastern United States and Southeastern Canada. A complete transportation network is available including highways, a deep-water port, rail and air to provide fast and efficient movement of products and raw materials.