The Workforce of Oswego County
Our 59,000-strong workforce is one of the most skilled labor forces in the nation.
The Oswego County Workforce New York Career Center provides employers with custom training services as needed, plus other services such as on-the-job training opportunities, skills assessment, and apprenticeship development, as well as information on tax credits, labor laws, and workplace safety. They also provide job seekers with career counseling, resume development, education and training, plus tuition assistance for vocational training in occupations in high demand within the local labor market.
Cayuga Community College (CCC) is a partner in the SUNY Apprenticeship Program. CCC is primarily focusing on developing registered apprenticeships in the advanced manufacturing industry, but will also promote increasing opportunities in healthcare and human services.
Advanced Manufacturing Certificate Programs in Mechanical Technology and Plastics Manufacturing at the Center for Career and Community Education (CCCE), a partnership between the Center for Instruction, Technology & Innovation (CiTi) and Cayuga Community College (CCC).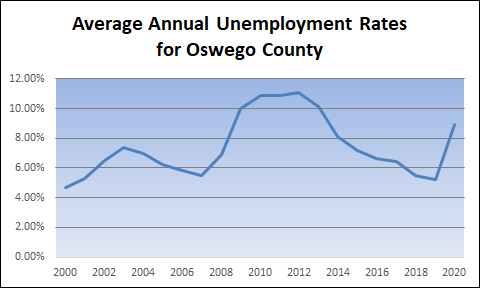 Data Source: NYS DOL Local Area Unemployment Statistics Program

Data Source: U.S. Census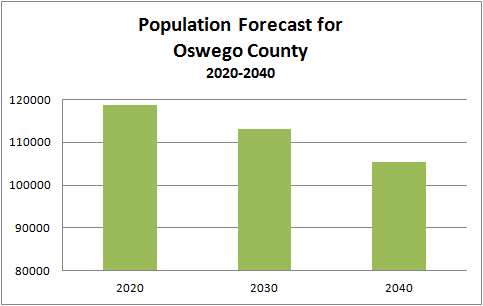 Data Source: 1940-2010 Decennial Census and projections by Cornell Program on Applied Demographics

Data Source: 2010 U.S. Census and NYS Department of Labor
Sample Average Annual Wages in Oswego County
| Occupation | Annual Average Wage |
| --- | --- |
| Accountants and Auditors | $68,480 |
| Administrative Assistant/Executive Secretaries | $36,760 |
| Assembler, production | $31,000 |
| Bookkeeping, Accounting, and Auditing Clerks | $38,790 |
| Construction laborer | $39,650 |
| General and Operations Managers | $91,890 |
| Human Resources Managers | $64,030 |
| First-Line Supervisors/Managers of Office | $58,260 |
| Receptionist | $29,820 |
| Sales Representatives, Wholesale and Manufacturing | $61,990 |
| Welder, Cutter, Solderer, Brazer | $42,080 |
| Electricians | $54,250 |
| Computer Programmers | $77,530 |
| Elementary School Teachers | $64,220 |
| Janitors and Cleaners | $27,940 |
| Sheet Metal Workers | $43,820 |
| Machine Feeders and Offbearers | $30,190 |
| Truck Drivers, Heavy and Tractor-Trailer | $44,570 |